This Covid-era couple celebrated love with an effortlessly cool vegan wedding at a Miami sanctuary
When journalist Santiago Rodriguez Tarditi took a break from his trip around the world to return to Miami, he had only one intention: to get his things out of storage and leave. Surprised when a friend suggested he meet eco-entrepreneur Valeria Hinojosa as a potential romantic interest, he almost didn't bite, resolving to move on to his next adventure. But when Tarditi found out that Hinojosa was vegan, an animal lover, and a fellow traveler, he mellowed.
Hinojosa, founder of environmental advocacy organization The Yindah Foundation, was not looking for a relationship. But when the same friend told her, "He's vegan, he plants trees, and he's really tall," she agreed to meet the potential love couple.
Valeria Hinojosa and Santiago Rodriguez Tarditi
Love story
The couple met for coffee before Tarditi left for Colombia. A few weeks later, the pandemic arrived and quarantines prevented the two from reconnecting in person. Thus, they spent hours chatting in depth over video calls.
After being trapped in Colombia by travel restrictions, Tarditi secured a place on a humanitarian flight to Florida two months after the couple first met. "Are you ready for me to move in with you?" he asked Hinojosa.
"It was our second date," she said. "I picked him up, then he moved in with me."
Living together in the city that Tarditi had tried to leave behind, the couple experienced a whole new Miami. Together they explored little-known parts of town and off-the-beaten-track vegan restaurants, supporting them through the pandemic. "It was a good long stay," Tarditi says.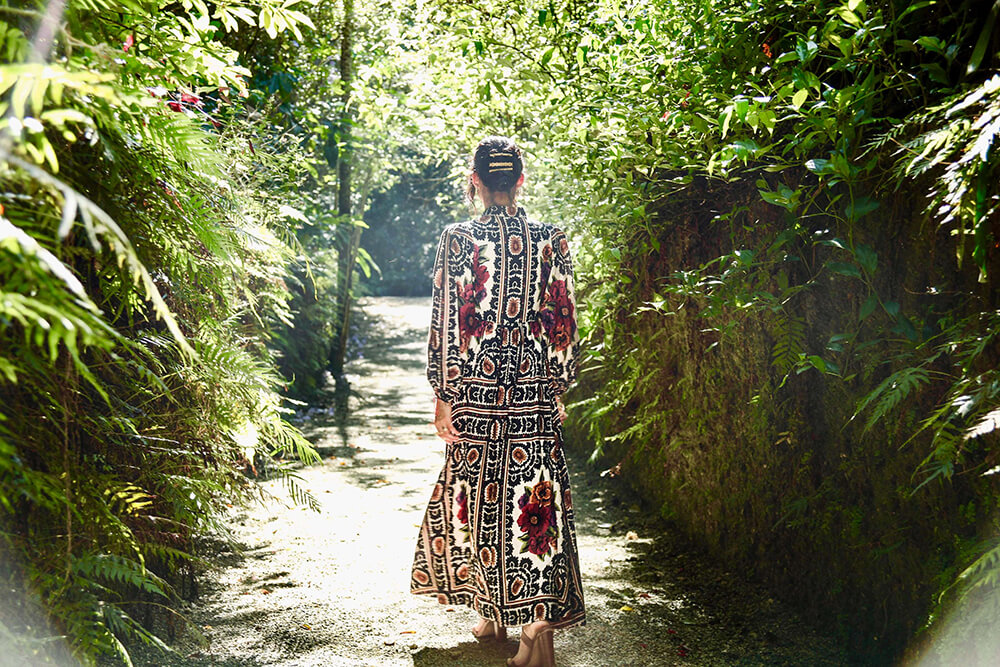 Valeria Hinojosa and Santiago Rodriguez Tarditi
The couple, passionate about protecting the environment and animals, have made it their priority to ensure that every element of the celebration reflects their values. Their spirit of exploration brought them to the Patch of Heaven Sanctuary for the event, a lush, natural, non-profit space that helps the forest thrive through conservation programs. On a scorching day in Florida, the couple honored the earth as much as they celebrated their love for each other, with a zero-waste wedding featuring eco-friendly decor that supported ethical business.
Standing amid the lush greenery of the shrine, they were wedded by a spiritual healer, exchanging vintage 1930s rings. The newlyweds served the celebratory meal themselves, pouring organic vegan wine from TILIA into glasses recycled and presenting the cake on compostable plates made from palm leaves.
As the sun went down, the couple realized they hadn't had their first dance. Thus, they shared an impromptu moment under the big tree, evolving at their own pace.
The big day
The decor
Guests sat at a communal dining table covered with a hand-printed tablecloth made by artisans in India. Instead of fresh flowers, the couple created a display of colorful fresh fruits and vegetables that became a meal the next day.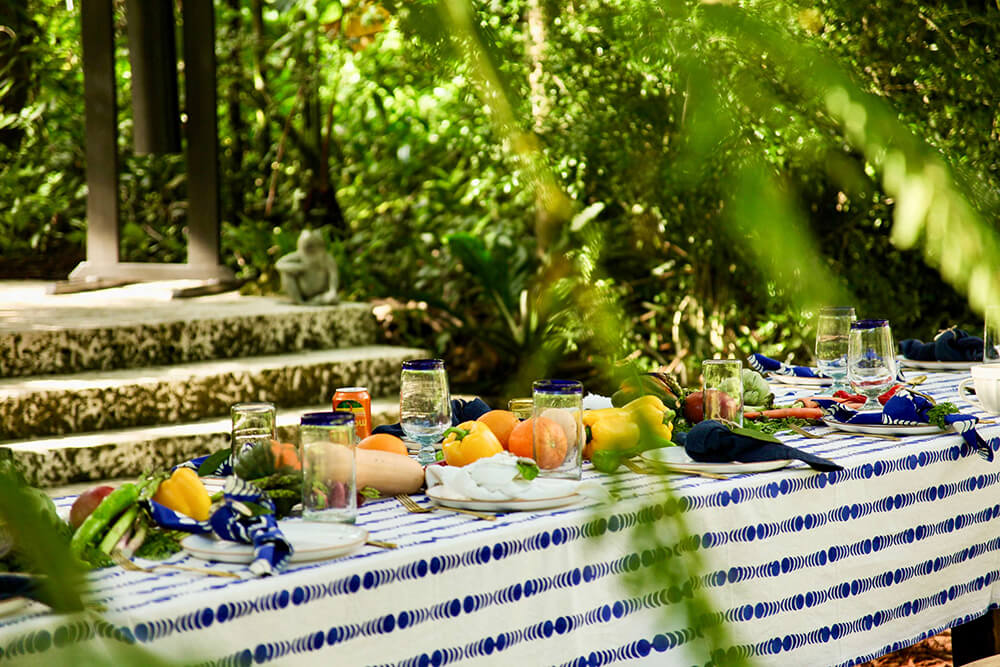 Valeria Hinojosa and Santiago Rodriguez Tarditi
The music
Surrounded by chirping birds, frolicking lizards and the crackle of fallen leaves, the sounds of the sanctuary were more meaningful to the couple than the music. "We kind of let nature be our soundtrack," says Tarditi.
Valeria Hinojosa and Santiago Rodriguez Tarditi
The food
The tasty Asian-Latin fusion menu for the wedding was prepared by Minty Z, a local vegan dim sum hotspot.
Empanadas with guava, pesto and smoked gouda
Warm beet and endive salad
Fresh spring rolls
Crushed cucumber salad
Cuban Corn Wontons
miso kabocha stickers
Wok-fried wild mushrooms
vegan wine
Organic fruit sangria
Oat milk coffee
Local vegan beer
The couple cut a vegan carrot cake with vanilla frosting, decorated with berries, fresh mint and edible flowers.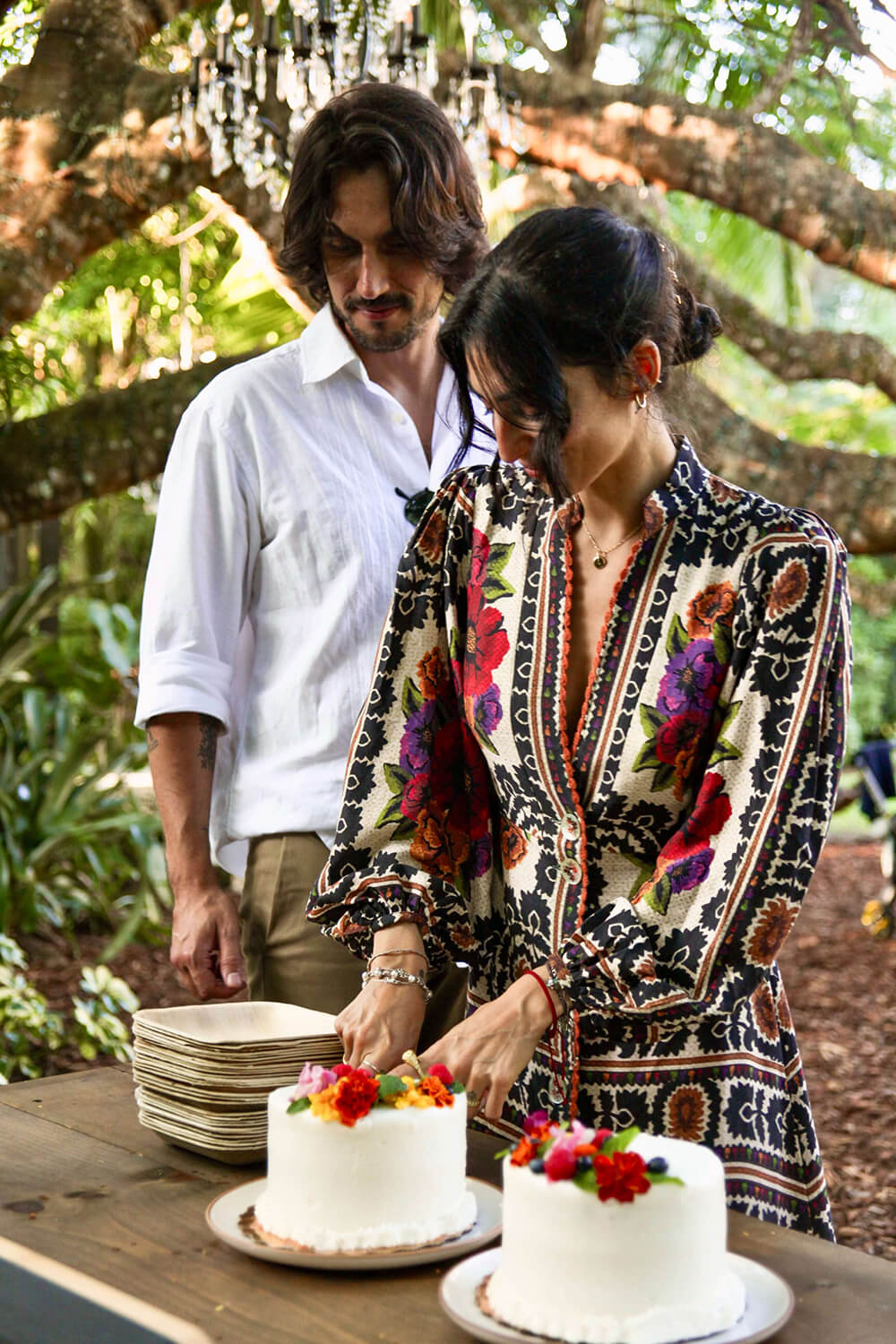 Valeria Hinojosa and Santiago Rodriguez Tarditi
what they wore
The bride's long-sleeved, intricately decorated dress was created by fair-trade designer FARM Rio, who plants a tree for every purchase. She pulled her hair up using clips from BaYou with Love, made from recycled gold from computers. The Tarditi cuvée guayabera the shirt and pants were bought second-hand and worn with vegan boots made from recycled rubber and organic cotton from Virón.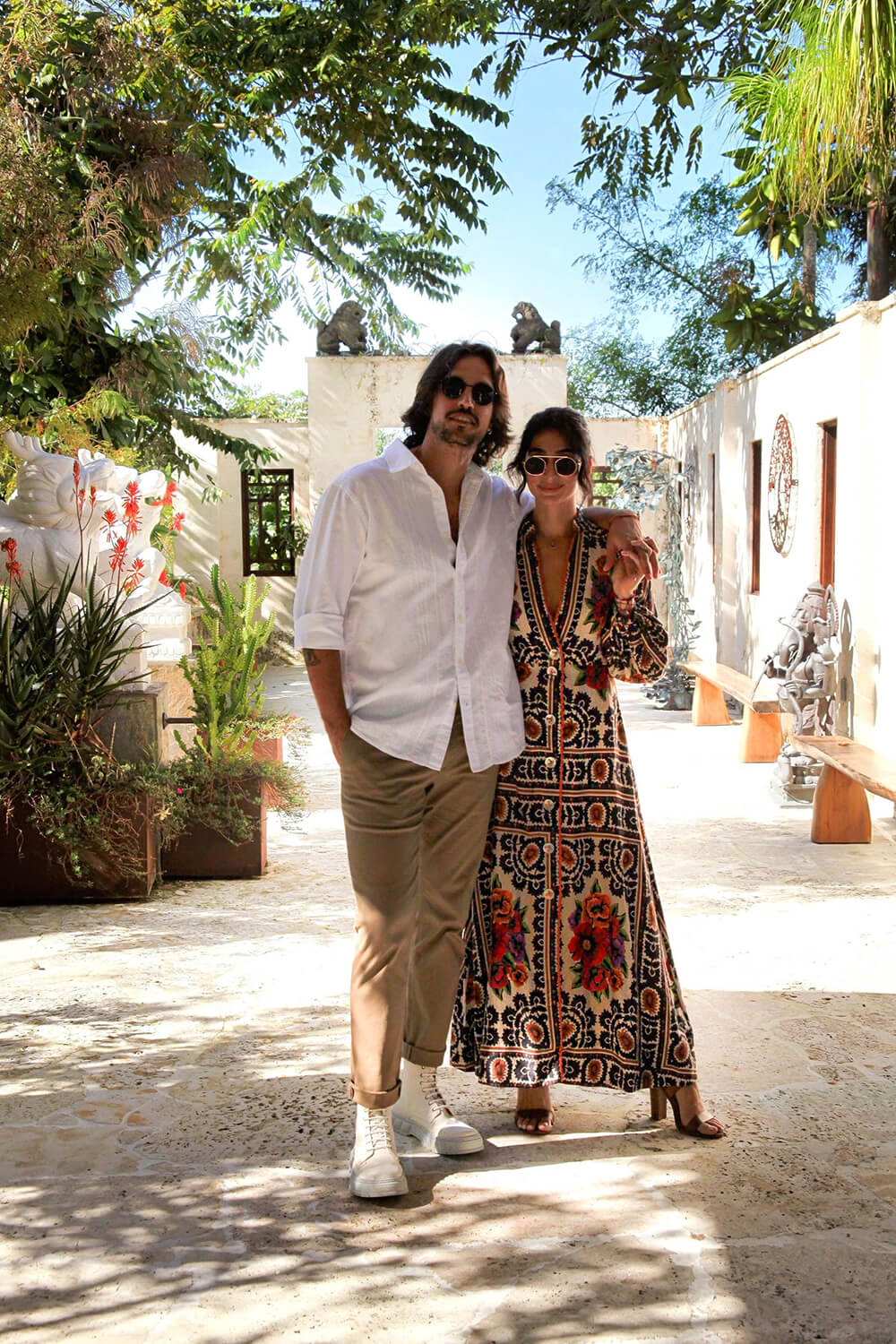 Valeria Hinojosa and Santiago Rodriguez Tarditi
And the personal touch
Hinojosa created the wedding place cards herself with clay, non-toxic paints and leaves she picked at the shrine the morning of the wedding. Tarditi prepared a refreshing sangria for the celebration, adding berries, fresh mint and rosemary.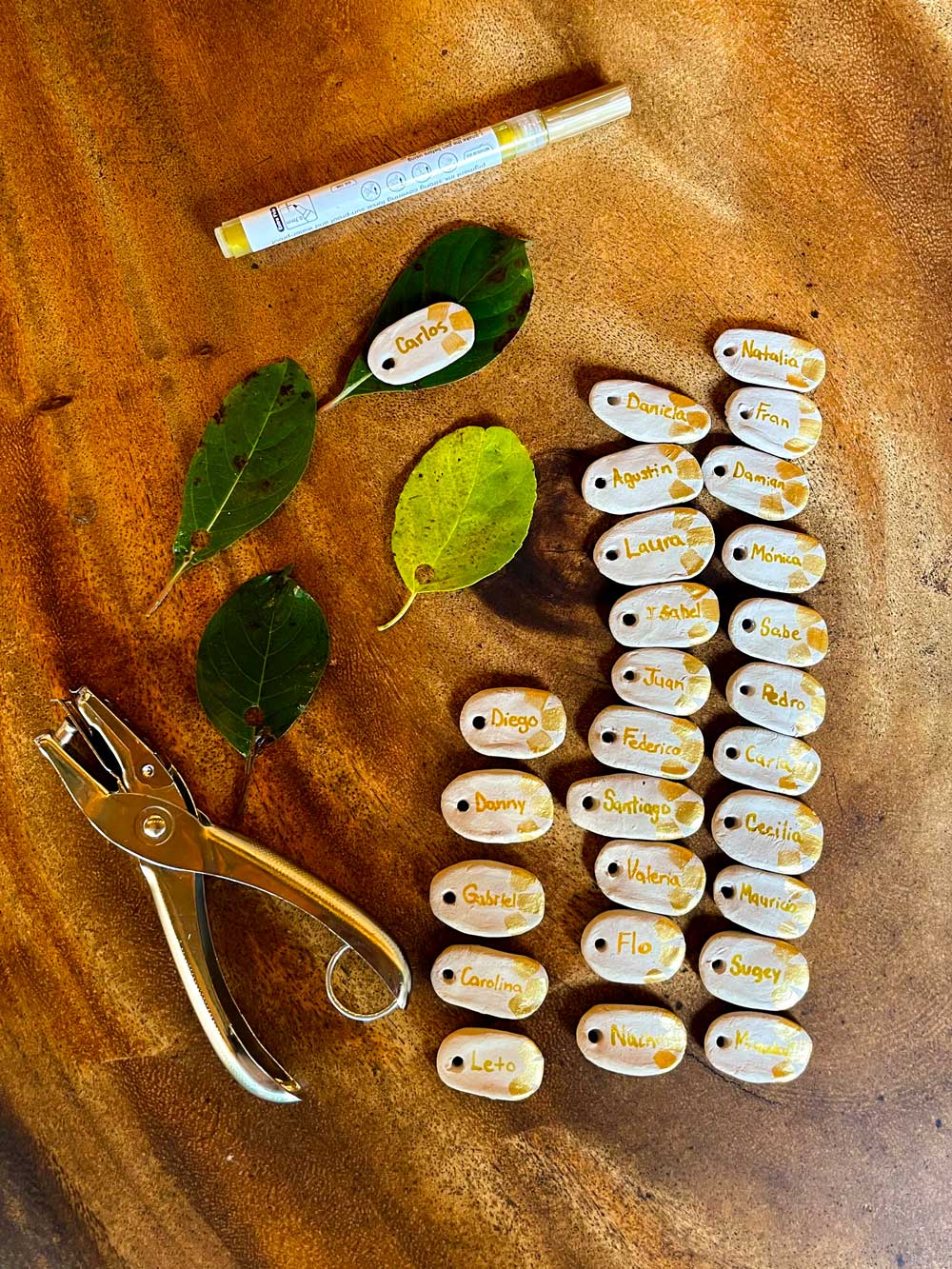 Valeria Hinojosa and Santiago Rodriguez Tarditi
For more vegan weddings, read:
A vegan Indian wedding in the British countryside
From Hollywood to Chile: a love story
A whimsical forest wedding in Canada