The return of catwalks, revenge shopping and big weddings put the fashion industry in restart mode
After two years of uncertainty, periodic retail store closures and the transition from physical fashion shows and exhibitions to digital storefronts, there is finally some stability and a rebound in business for fashion designers. With no large-scale events, large gatherings, social events, or large weddings, the need and desire to buy designer outfits has diminished over the past couple of years, but this year it's There has been a positive change, with an increase in appointments and orders, and creators are now hoping that this year will be a fresh start for them. They say this year will be a "restart year after a long hiatus".
Revenge buys, pop-up exhibits helping creators liquidate inventory

Revenge shopping – spending aggressively after a period of limited shopping opportunities – was predicted last year after the trend was seen in the West, particularly with luxury brands. However, the designers here argued that it was too early to say whether this would also be true for India. "It's good to note that shopping or revenge buying is happening, although it's geared more towards international luxury brands, as people aren't traveling overseas like they used to. But there has also been an increase in demand for designer clothes," says designer Rina Dhaka. Designer Nikita Mhaisalkar adds: "People are finding reasons to celebrate. Many events that have been canceled or postponed are now happening and there is an increased demand for designer clothes. Finally, things are opening up and people have reason to shop around and buy new clothes. Although there is an increase in demand, designers say they need to keep in mind that the consumer is price conscious (when it comes to ready-to-wear clothing) and has a lot of options to choose from. "Every designer would currently have a lot of inventory to clear, so even if there is an increase in demand, there are far too many options to meet that demand. , but it's a very price-sensitive market," shares Rina. Designer Shruti Sancheti adds, "Today's consumer is not only price conscious but also looking for durable, flowing and versatile clothing, so there's a huge demand for that."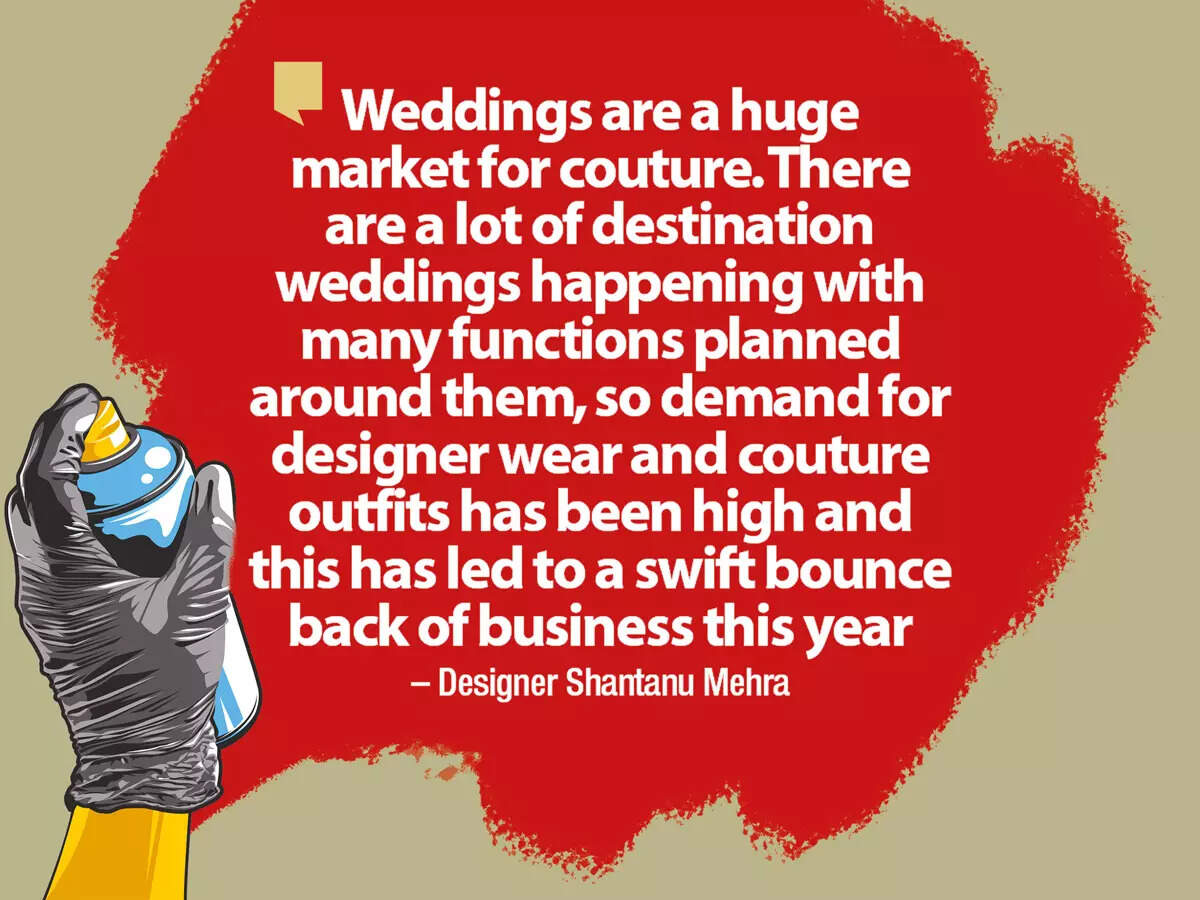 'Through marriages, bouncing back into the sewing business has been great'

While restrictions on weddings have been lifted, the last two months have already seen an increase in demand for couture. According to designer Shantanu Mehra, "Weddings are a huge market for couture and over the past couple of years what we've been missing is the NRIs and overseas buyers coming to India to shop. But now domestic demand is so high that we really don't feel that pinch. There are many destination weddings taking place with many events and functions planned around these weddings, so the demand for designer clothes and couture outfits has been high and this has led to a rapid rebound in business this year. . "With the lifting of COVID restrictions and travel bans, weddings are back in full force. Thus, the demand for couture and designer clothes has been high. Indian fashion thrives on wedding business. People go out, shop, travel. The scale of weddings is as big as it was pre-COVID and it's all giving business a boost. In fact, weddings help fashion businesses sustain and survive," adds designer Sonam Modi. Nikita adds, "Indian consumers only splurge on weddings. It is their main event in life, when they want to spend lavishly, and for designers it is a blessing. Without restrictions on weddings, there would be more demand and more work for us.
This year will see the return of physical fashion shows to the country and designers say this will boost business
"Physical shows will help fashion move forward"

During the pandemic, designers were showcasing their collections online through digital films. After a nearly two-year hiatus, Delhi Fashion Week will return this month in a physical format. Designers say their real business comes from physical events where they have the opportunity to network with buyers who can get a close look at the clothes. According to Shruti, "Digital shows were a great substitute for physical fashion weeks during the pandemic and designers could reach out to shoppers and express their creativity, however, fashion is more than that. Live shows provide the factor touch and feel, which is very important in designer outfits, and they are the real representation of a designer's vision.Displaying clothes on the ramp and interacting with buyers will definitely help fashion move forward Designer Charu Parashar adds, "It seems like the worst is over for the fashion industry. People have this urge to spend again on luxury fashion. Physical fashion show is relevant, and it's about to tell immediate stories and comments, which you can never expect in an online format.This definitely creates more on-site purchases.