Air Europa will launch the world's first NFT flight
Air Europa has announced that it has partnered with TravelX, the company building the travel industry's first blockchain-based distribution protocol, and blockchain platform Algorand to launch the first series of airline tickets. NFT (non-fungible token) in the world, called "NFTickets".
With purchase, owners will gain access to a special Air Europa flight to Miami Beach on November 29, 2022, as well as benefits and events leading up to the Americas First Art Exhibition to be held in Miami Beach in December. Ten NFTickets in partnership with acclaimed artists will be released every 14 days via the travelxchange.com/ auction platform.
"Innovation is in our DNA, we have been pioneers in applying new technologies within our industry and it cannot be otherwise with NFTs, which could be the next step in the travel industry" , said Bernardo Botella, director of global sales at Air Europa. "We are proud to be the first airline to adopt blockchain technology for inventory management and distribution. We're excited to see where this could take travel as a whole and how it could improve the customer experience. »
NFTickets work like traditional NFTs and are individually rare. When traded, transactions are recorded securely on the blockchain. When ready for use, the owner can present the NFT and a corresponding airline ticket will be issued. The TravelX and Air Europa NFTickets will offer buyers the opportunity to own a piece of travel industry history and participate in the first-ever blockchain-supported flight.
The NFTicket series titled "Art as Destination" is curated by Ximena Caminos, who commissioned the first piece from renowned multidisciplinary artist Carlos Betancourt.
"Artists are intrigued by discovery, exploration," Betancourt said. "It's the same with technology. With this piece, I experiment with the frontiers of art and technology. The animated artwork is inspired by the concepts of space, magical realms, and travel experiences, and the memories and feelings these experiences evoke.
"It's very exciting to give birth to a new type of NFT, created on Algorand's carbon-negative blockchain," said Facundo Diaz, co-founder of TravelX. "We will combine the best of traditional NFT, but add real-world application and experience. This provides a better plane ticket that travelers can easily manage and redeem from their blockchain wallet, combined with a new type of collectible artwork. We believe NFTickets will be the perfect fusion of art, travel and technology.
FTE EMEA Futurist Keynote Announced: Cryptos, NFTs and the Metaverse – The Next Growth Frontiers?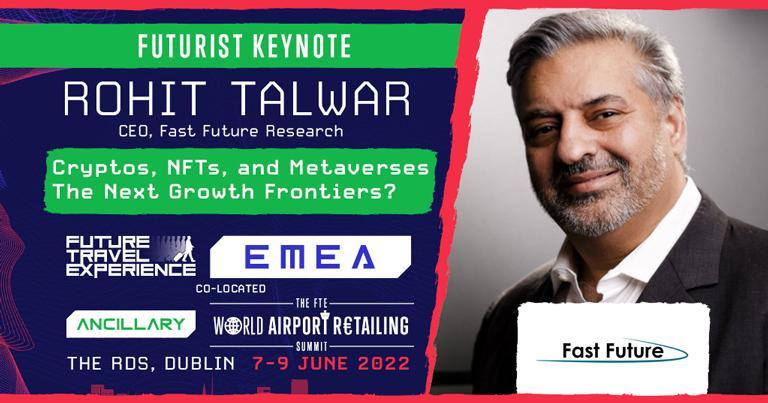 The adoption of NFTs paves the way for the development of innovative solutions in the travel industry. This emerging trend will be in the spotlight at the upcoming FTE EMEA show in Dublin from June 7-9, when Rohit Talwar, CEO of Fast Future Research, will deliver a keynote titled "Cryptos, NFTs and the Metaverse – The Next Frontiers of Growth?'. Additionally, Lufthansa Innovation Hub Managing Director Christine Wang will join a panel of industry innovators who will discuss the need to leverage new technologies and develop new innovative approaches to help drive the transformation of the industry. industry that is essential to its future. Click here to browse conference agendas and register to attend.